Fisher Family Scholarship Fund
The Fisher Family Scholarship Fund was established in March 2010 to help expand efforts to reach college-bound minority youth in the St. Louis metropolitan area. From humble beginnings as a single scholarship award, the organization now provides a scholarship annually to an ambitious student that may qualify for financial aid, but cannot afford the true cost of college attendance. Our vision is that every student in need achieves their dream of higher learning.
Fund the Dream
The Fisher Family Scholarship Fund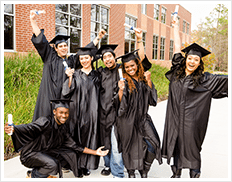 firmly believes that the path to success is paved by education. Over the years, they have supported a variety of efforts and organizations to help students achieve the higher level of learning they desire. Learn more about the history of the organization Here.
Contact Us
To learn more about our organization and efforts, please contact us through our web form.